How Trustworthy is AI? ("All In" podcast:)
On the All-In podcast this week, the hosts reviewed Google Bard AI's answers to questions about themselves:
David Friedberg read Bard's answers and David Sacks responded: So the question is where is he getting these quotes and then why doesn't it give citations?

Why Not Auto-Linked Sources? #
This problem with Baird's citations highlights an important issue with how human writers function, whether on Substack or elsewhere:
I expect the AI to improve dramatically, including the ability to cite sources, but assuming we still want human writers:
I don't believe we want AI finding sources for writers and automatically linking them.
When writers quote things, the writer should be responsible for linking their own quotes.
When writers create a link to a source, they are implicitly endorsing that source.
Google's entire PageRank algorithm assumes that writers are responsible for their sources and that links function as endorsements.
If an an algorithm is generating linked content, it should be clear that the link was algorithmically generated.
As AI-generated content becomes more prevalent, it also becomes more important for readers to know the source and the context of quotations, whether the generated content is text, audio, or video (deep fakes).
The Trusted Content Business Model
A) Primary Sources:
I speculate that, in the future, a significant portion of the revenue of organizations like the Associated Press and Reuters' will come from being a trusted primary source that are embedded by other content creators or AI.
There is a real need for sources to supply transcripts, audio, and video that readers and content creators can trust, in a media landscape that may contain slanted, buggy, and deep faked content.
B) Secondary Sources:
Trust is also paramount in the market for commentary and analysis, as legacy brands have been tarnished by access journalism, audience capture, content moderation/censorship, and advertiser pressure.
C) AI's Bias is not transparent
At this point, it appears that AI answers have the same biases as their model and data.
The problem with AI-created opinion content is that reader's don't have transparency into the AI's model or data, making a trusted human writer of special value to readers.
Establishment Gatekeepers attack and threaten Matt Taibbi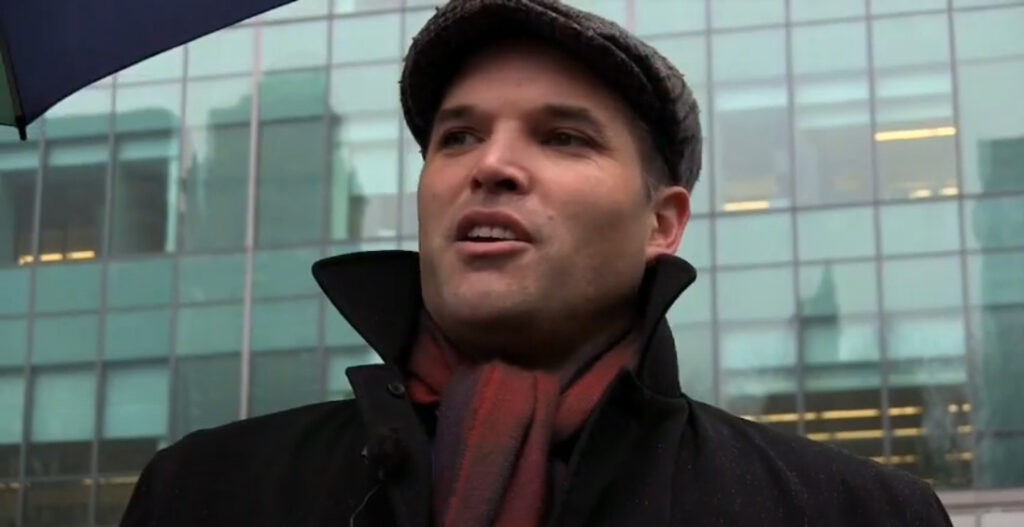 Photo: Matt Taibbi, during Occupy Wall Street, Wikimedia Commons
Substack writer and journalist Matt Taiibbi (CiteIt demo article) has recently faced criticism from Virgin Islands congressional delegate Stacy Plaskett, including threats of prison time. Likewise MSNBC host Mehdi Hassan attacked (or nitpicked with) Taibbi's coverage of the Twitter files. Both critics seem to function as gatekeepers, defending establishment interests that are threatened by exposure of the government's allegedly close involvement with Twitter content moderation/censorship.
Briahna Joy Gray commented on delegate Plaskett's letter to Taibbi:
It seems very clear that this kind of a letter is an effort to threaten and coerce and punish Taibbi for giving testimony that was inconvenient to the Democratic party and that's a real problem and it's exactly what Lee Fong has been warning of this whole time and while he why he's treated the characterization of Matt's remarks during that Congressional hearing so seriously saying that it's not it's it's not okay this isn't just like a Tit for Tat accusing someone of lying
CiteIt Contextual Citations: Don't Interrupt the flow of the Article:
In many of these situations, it is vital that readers/viewers are able to consult the original text/video/transcripts, but writers don't always want to interrupt the flow of their article.
This is why it is so important that CiteIt makes it easy to :
generate contextual a text/video popup
expand contextual blockquotes
How Substack Authors Defend Themselves & Press their Advantage
I've tried in the past to get local and national newspapers and magazines to use CiteIt. I now suspect that legacy media institutions don't currently perceive themselves to have the financial incentives (or perhaps the technological or organizational ability) to implement contextual citations. Part of this is may be because legacy institutions don't currently seem to perceive how bad the trust deficit is.
By contrast, independent media seems to understand how dire the trust deficit is.
The key value proposition that CiteIt's contextual citations offer to all parties is:
1) READERS:
gain transparency into sources so they can trust writer's content and gain understanding.
2) WRITERS:
build greater reader trust and defend against gatekeeping critics,
3) SUBSTACK:
set a standard for transparency that legacy institutions will find hard to match:
by integrating CiteIt across the entire Substack platform: Notes, Posts, Audio, and Video
4) PRIMARY SOURCES:
potentially monetize content by paying quoted internal and external creators as part of "Substack paid sources program."