Hello, this is Tim Langeman, creator of CiteIt.net — setting a higher standard of citation, for academics, news organizations, and web authors.
1) The Problem of Out-of-Context Quotations
Often when I read a quotation I think to myself.. "that's a nice quote but I wonder what it says two sentences prior or two sentences later." In other words, what's the context, and how do I know this quote wasn't cherry-picked?
Jefferson Memorial
In Washington DC, the Jefferson Memorial has a badly cherry-pick quote etched into the northeastern wall. Here it is — "Nothing is more certainly written in the book of fate than that these people are to be free." That sounds great, but it's just an excerpt.
Using CiteIt.net, I can link to quote to the full text, making it possible to click on the blue down arrow and reveal the quote's next 500 characters.
"Nor is it less certain that the two races, equally free, cannot live in the same government. Nature, habit, opinion has drawn indelible lines of distinction between them. It is still in our power to direct the process of emancipation and deportation.
If you look at the text above the quote, you can see that Jefferson was arguing that African Americans should work for a period of time as slaves and then be deported at a "proper age." Sometimes added context changes everything.
Given how CiteIt.net exposes cherry-picked quotations, no news organization or author attempting to deceive their readers would use it. CiteIt.net isn't about exposing anyone. Rather, it's a tool for responsible news organizations and authors who choose to differentiate themselves by holding themselves up to a higher standard, giving readers confidence in their integrity and a greater understanding of their sources.
2) Beyond Quote Verification: Understanding Context
Let's now look at a second example — this time where the author is not trying to cherry-pick but rather to provide their readers with an easy way to learn more about a quote's context.
Wikipedia Mockup
I've mocked up a list of Wikipedia articles to show what it would look like if Wikipedia were using CiteIt.net's open-source Contextual Citations.
Here are a few sample articles:
I'm looking to bring this feature to all of Wikipedia. Check out the volunteer tab for more information on how you can help
3) Video Citations: Quoting YouTube
Many Americans distrust Press Coverage. For a third example, Let's take a look at how authors can use the CiteIt.net WordPress plugin to demonstrate their quotations using YouTube video and transcripts.
BBC: Quotation from White House Press Conference
Here's a sub headline from the BBC about a Trump Administration Press conference. Note the quote is "100%", without any additional context from the press conference.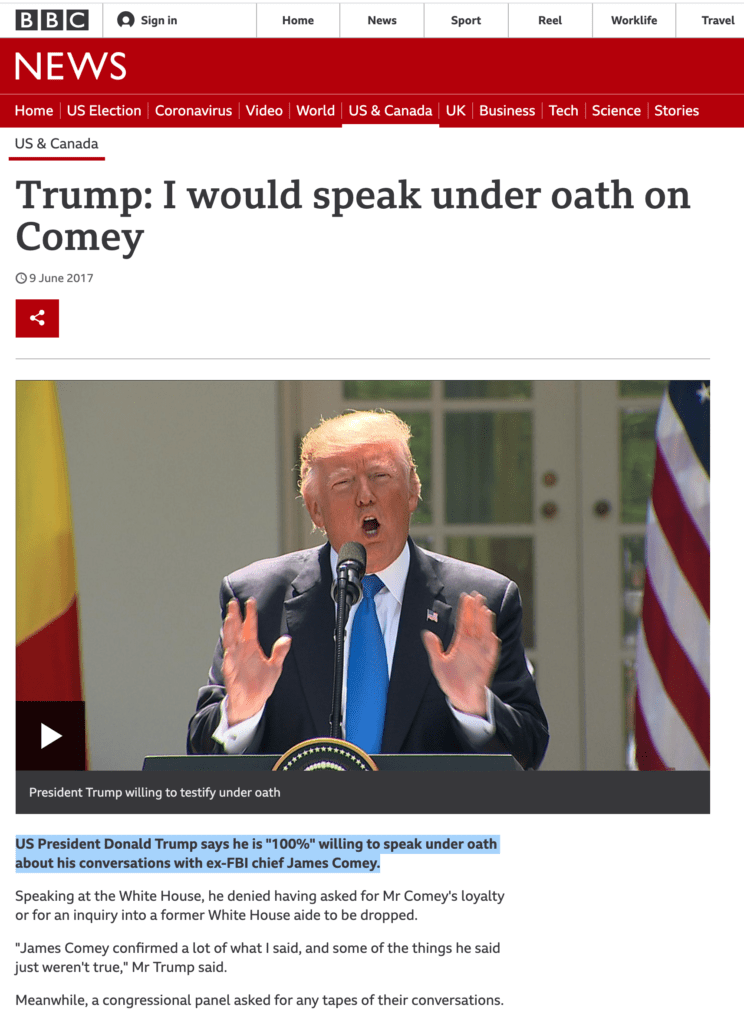 US President Donald Trump says he is 100% willing to speak under oath about his conversations with ex-FBI chief James Comey.
If you click on the quoted "
100%
" above, you can see the surrounding
original transcript
, which suggests that the President may have been using the fact that "
100
%" makes a great soundbite, while the sentence that followed (that negates it) did not.
Regardless, of whether you agree with my theory, you can imagine a world in which every credible journalist linked their quotations to the original video and/or transcript.
Publishers would always reveal the context of their quotes by linking them to a transcript/video of the original.
Citizens would be able to easily examine the original event cited by news quotations.
Politicians would no longer able to excuse their statements by hiding behind the claim that the media took their quotes out of context.
In conclusion, CiteIt.net aims to set a higher standard of citation for academics, news organizations, and web authors.
It allows readers to easily verify the context and learn more.
CiteIt.net is free and licensed under the open-source MIT license Idea